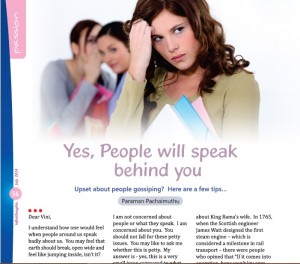 [ Published in 'infinithoughts' July,2014 ]
Yes, People will speak behind you – Paraman Pachaimuthu
Dear Vini,
I understand how one would feel when people around us speak badly about us.  Feel like earth should break, open wide and feel like jumping inside, isn't it?
I know you couldn't focus on your food, work and any regular activities. You may not feel anything worthy.  You may think "I am not of such kind; I do things with very good intentions. Why they speak like that behind me? The people whom I love have stabbed me in the back. How much I have done for them! Nothing is worth here. Is it?"  Your mind may be playing these statements again and again.  I understand what you must be going through. I feel with you.
I am not concerned about people or what they speak. I am concerned about you. You should not fall for these petty issues. You may like to ask me whether this is petty. My answer is – yes, this is a very very small issueg compared to what you are going to achieve in this year, in the years to come and what you are made for. Hence, my concern is not about people or about what they speak. My concern is about you.
People will speak. That's how they are. It is not just for you. It is not with this period of time. It is universal. This is how the world has been for centuries, ages and yugas. Have you not read that in treta yuga, a washerman made comments about king Rama's wife. In 1765, when the Scottish engineer James Watt designed the first steam engine – which is considered a milestone in rail transport – there were people who opined that "If it comes into operation, hens won't lay eggs and hatch chickens; cows won't eat or give milk; children won't sleep, etc." About Mahatma Gandhi, about Mother Teresa, about great leaders, about great kings, about countries, about the society, about events, about incidents, about actions, about anything, about anybody people speak.
People will speak. They will make comments. It is how they are. Who was not spoken about? They spoke about Christ. They spoke about Prophet. People spoke about Thirtankars, about Nayanmars and Alwars. They even speak about God. They spoke, they speak and they will speak. It is how they are. Hence, my concern is not about people or what they speak. My concern is about you. People are not very particular to speak about you. They need something or somebody to talk about. Now you have become the topic for them to talk about. That's all. Don't get upset or feel bad.
Actually, if people are speaking about you, you should feel good. Do you know why? People will speak only about those who are different from the average crowd. You look unique, your actions, your way, your behavior or thoughts are unique and you stand separate from the crowd. That makes people to speak about you. Feel good that world is looking at you. People around you feel that in a few aspects you have crossed them, gone up to the next level. Hence they think that they can't speak to you directly. Hence they speak behind you.
Life has allotted time for everyone. These people spend their time speaking about others. They have more time to waste. Don't bother. They get nothing except a momentary cheap pleasure. Let's not fall into that gang. Let's not waste our time by going into 'why they speak like that. Let's use our time on right things, go up, grow up in life. Ignore them.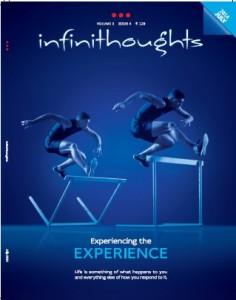 Once we go up and show results, the magic will happen. The same people will speak good about us then. Anyway, they will keep speaking about. Let them speak about our success, about our achievements. Keep going. Be a selective dumb in those aspects. The same people who spoke bad when steam engine was invented would have subsequently spoke very high about James Watt for the revolution he had brought in.
After the film 'Roja' become a super hit, people made remarks about A R Rahman too. People said, "His music is stereo type; it goes up suddenly and comes down all of a like a sine wave. It is not music at all. With the recording gimmicks, he cheats people. It is not music." He was busy with his work. He kept on working on composing new music and new tunes. And you know the same people speak today, "A R Rahman is our pride. He won two Oscars for our nation. His music soothes our mind; give a sudden energy when we feel sluggish." I just want to say, irrespective of what they spoke, A R Rahman did not stop. He got busy with his life and the world calls him 'Revolutionary, Oscar winner A R Rahman.'
People would have spoken about Edmund Hillary, Sachin Tendulkar, Superstar Rajini Kanth. You take pride in yourself; don't stop for these things. Understand that you are growing and that's why people are speaking. Keep going. Get busy with life. Produce results. And the magic will happen. People will speak about you!
Best wishes,
Paraman Pachaimuthu
: Thanks to 'infinithoughts'