[ Published in an English Magazine ]
'Eega eega eega… Eedaa Eedaa Eedaa… kannu rendil theda… hey… Eega Eega Eegaaaa.'
A small boy cut my way and ran to the other side road, singing this song very loudly, with a lot of enthusiasm. I was on my night stroll.
It was from the Telugu film 'Eega', a blockbuster film, which made people to raise their eyebrows for the plot and for the way it was filmed. The way people received the movie made the director to make it in Tamil and also dub the same in Hindi as well as in Malayalam. It was directed by SS Rajamouli.
After completing his 9th film, he wanted to choose the subject for his next film. He mulled over a casual statement of his father, 'imagine a script, a house fly taking revenge on a man' and he decided to build film on it and wrote a script. As the major portion of the film needed graphic animation, he decided to outsource the same. Graphic animation for making a film is a costly phenomenon. After pouring a lot of his earnings, he got a shock of his life by seeing the outcome. It was not at all impressive. If he decided to leave it at that stage, there was no way he could get back the money that was already pumped in. The animation team informed him that a housefly is an tiny, ugly insect and emotions can't be brought out from that tiny, ugly face. In spite of giving several success films in a sequence, it seemed that he was scared, with his fingers crossed, not knowing how to proceed further. Probably he might have murmured 'It was a wrong decision'. He could not sleep for nights. From nowhere he remembered the emblem of Pixar Studios of Hollywood, wherein the table lamp would dance, jump and shows happiness. There was a flash in his mind – if a table lamp which doesn't have eyes, face, or mouth can express emotions, then it should be possible to do something with the housefly in my film. It was a turning point for the movie. The rest is history. It turned out to be a blockbuster movie.
SS Rajamouli has been rated as best director in his category and his film was screened in an international film festival. It was the song from this film the boy, who crossed me, song happily – 'Eaga Eaga Eaga…'.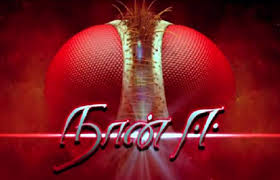 The point here is, the director originally felt that his decision to choose that theme was wrong. Today the entire film world feels it was a 'Right decision'.
Yes, initially he was shocked; he even thought that all his hard-earned money had gone in drain. He was thinking how to turn that decision right. He was on the lookout for all possible ways for the same. And finally he got the trigger. His decision turned out to be a right one. Actually he proved his decision right.
I remember Mahatria saying eight years ago in a satsang, "There are no right decisions… you have to make your decisions right."
Take a decision. And prove it right or wrong.
I am not talking about the situations where you want to decide 'whether to continue smoking or quitting' or 'taking alcohol or dropping alcohol'. You know which is right and wrong there.
There is a cricket match between India and England. The captain of the Indian team won the toss and decided to bat first. At that point of time no one can exactly say whether his decision was right or wrong. If the team plays well and wins the match, the world would say his decision was right. If the team loses, the world would say that the decision to bat first was wrong. The captain has to prove that his decision was right by ensuring that they win the match.
You are in love with a person and decided to marry that person. People can share their views and opinions out of their experiences or what they have heard or seen. However, nobody can tell whether that decision was right or wrong. If the marriage grows happily, people would call the decision a right one. Else, they would term it wrong.
Yes, there may be times when a decision taken may not go well. But it should not stop us from taking further decisions. Indecisiveness will push one to stagnate. There is a saying, "You will not regret the decisions you made in your life. You will regret for the decisions that you never made." Not taking decisions will not give you growth. Take decisions. Through experience we will grow in maturity. Go ahead. Take decisions and make them right.
In life, there is no right decision or wrong decision. Take a decision. Do everything to prove it right.
I am back from my night stroll and there is a post in FB from Nisha 'How to decide whether our decision is right or wrong?'
You know it. I am just posting my comment 'In life, there is nothing called right decision or wrong decision. Take a decision. Prove it right'.
– Paraman Pachaimuthu
: Thanks to 'infinithoughts'